So what business does this New York City gal have climbing one of the tallest mountains in the world, Kilimanjaro? I don't know either, but I am going to give it a shot next year in 2017.
Join me in my journey as I prepare to summit this mountain along with my friends from around the world.
Let's see if I can actually go through with this strenuous adventure on my own two feet to beyond the clouds.
Follow along with me online at 
.com and on Facebook, Twitter, and YouTube as I keep you updated on my preparation and my progress (or lack thereof!).
Check in periodically on my Kilimanjaro Bulletin to see what we have been doing to plan and train for this trip. Click on the graphic below to learn more.  
I am aiming to become physically fit enough to endure this 7-day hike to over 19,000 feet. BUT despite being prepared as possible, none of us will know until hiking whether we will get altitude sickness.
This mountain climb is not like that of Mt Everest, only reserved for advanced mountaineers with appropriate climbing equipment. It is basically a very long, gradual walk up a very tall mountain.
However, climbing Mt Kilimanjaro is still a difficult feat. High elevation can cause altitude sickness for even the best of hikers. The occasional high winds and the cold temperatures can make the hike uncomfortable. While it is rare to die while climbing Kilimanjaro – a 0.01% chance – it is worth noting the dangers of falling rocks, slipping, and advanced altitude sickness.
To be successful in reaching the top, here are some things to keep in mind:  
Walk slowly
Keep warm by dressing in layers and in appropriate clothing
Stay hydrated
Rest
Travel with experienced guides and porters
The experience is both mentally and physically challenging. Hikers can expect to walk between 3 and 6 hours a day for up to 9 days in total. Reaching the highest point, Uhuru Peak, hikers climb a steep, rocky trail through the night and summit in the morning. Consequently, hikers can expect to walk very slowly for about 16 hours in duration.
Hikers can choose between six routes up Kilimanjaro: Machame, Rongai, Lemosho, Shira, Umbwe, and Marangu.
According to Kilimanjaro National Park and Climbing Kilimanjaro Guide, the overall success rate in reaching the summit is 65%.
If you take 5 days to walk Kilimanjaro, the success rate for all types of climbers drops to 27%. The rate rises to 44% when taking 6 days to climb and 64% when taking 7 days to climb. As a result, the best is to spend 8 days climbing as the success rate is 85% for all climbers.
Anytime of the year is a suitable time to hike Kili although the best times are between January and March and again in October. The rainier times fall between April through May and November through December. And so, we are aiming to go at the end of September/early October.
What is Mount Kilimanjaro?
Mount Kilimanjaro is a dormant volcano located in the southeastern part of Africa in the country of Tanzania. Known as "Kili", Kilimanjaro stands 19,341 feet (5,895 meters) above sea level, therefore making it the tallest point in Africa.
It is located just below the equator in the southern hemisphere. The volcano is so tall, it has many climate regions ranging from jungles and grasslands to tundra and arctic zones.  
In fact, Kili is one of the "Seven Summits" around the world. The tallest mountain in each continent in the world forms the Seven Summits group.  
Kilimanjaro is also known as the fourth most prominent peak in the world behind number 1, Mt. Everest, number 2, Aconcagua in Argentina, and number 3, Denali in Alaska. A prominent peak is measured as the height from the lowest point of ascension to the top of the peak.
This old volcano is thought to have last erupted approximately 150,000 years ago although it could erupt again one day. Kilimanjaro is made up of three volcanic cones, or peaks, named Kibo, Mawenzi, and Shira. Shira and Mawenzi are extinct, but Kibo is dormant and the one to watch.
Shira is the shortest of the three cones standing at 13,140 feet. Kibo is the tallest with its highest peak Uhuru Peak standing at 19,341 feet. Hikers aim to summit to the top of Uhuru Peak, and that is what we are hoping to do too.
Notably, German geologist Hans Meyer, Austrian mountaineer Ludwig Purtscheller, and their African porters were the first people to climb to the top of Kili in 1889.
Why Climb Kilimanjaro…Well Because Mt Fuji and Volcanoes.
There is something about volcanoes. I have seen the volcanoes in Arenal Costa Rica, Big Island Hawaii, Mt Fuji, Santorini Greece, and beyond. From my personal experience I could feel this palpable, positive energy around these volcanoes.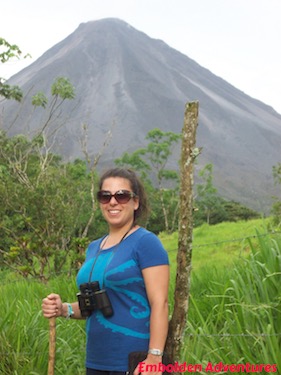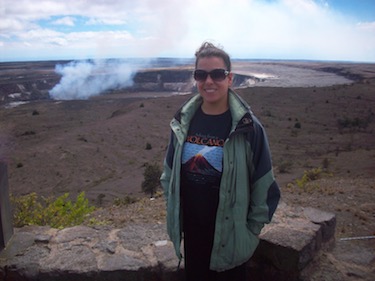 This energy is calming, grounding, and satisfying.
The Hawaiians call it "mana", a sacred, life-force energy brought up from inner earth through the volcano.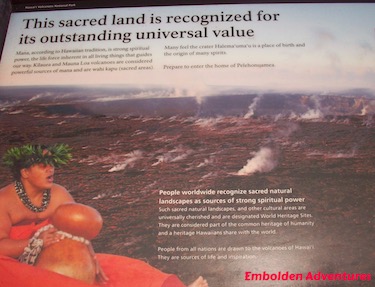 The Japanese hold Mt Fuji in high reverence, respectfully referring to it as "Fujisan." Strong spiritual energy can also be felt not just around volcanoes specifically, but in the mountains more generally. The Rocky Mountains in the United States, Machu Picchu in Peru, and the Himalayas are good examples of peaceful energies. And Kilimanjaro is revered as the "House of God" to the local Masai people.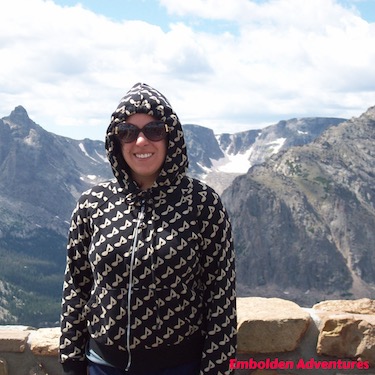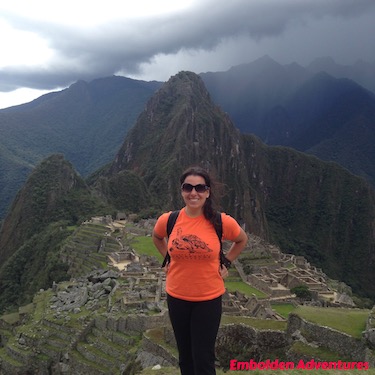 Back in 2014, my friend Jen decided that she wanted to climb Mt Fuji in Japan. You may remember Jen who got married in the country of Jordan. We attended the wedding and toured the country and beyond. Read all about it and listen to the podcast here: A Wedding in Jordan.
Of course I wanted to join Jen in this grand expedition up Mt. Fuji. Our group expanded to nine of us fairly novice climbers from three countries: Australia, the United States, and Japan. 
As with all of these
trips, the concept turns into the reality.
Eventually we grew the Mt Fuji idea into a 2-week trip around Japan. Our trip included visits to the current capital, Tokyo, to the ancient capitals Kyoto and Nara, and to the islands of Okinawa to scuba dive.
Hiking up Mt Fuji as a group proved to be a hard yet rewarding experience. It tested our stamina and mental endurance over a two-day period.
From the comfort of my computer, I was bold in thinking a trek up a volcano 12,388 feet (or 3,776 meters) would be straightforward and easy. That it was not. I found out the hard way that our expectations did not match the experience.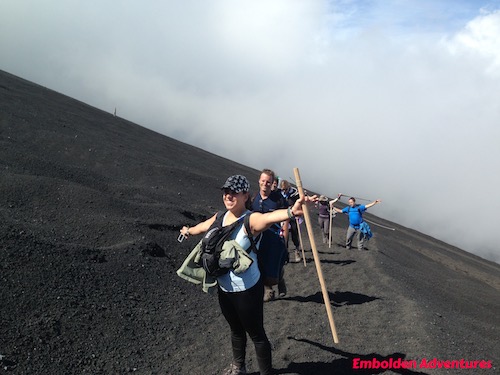 The reality proved to be exhausting, sore, and long, but well worth the effort. We leaned on our endurances and mental toughness to be able to climb the Gotemba trail. This trail is the hardest and least populated trail up the mountain. In fact, we were the only people on this trail during most of the time up the mountain.
We witnessed the sun set over the peak to reveal a big, red moon. We saw incredibly bright stars and later, a blinding, bright moon.
The wind howled as we dug deep within to push our tired bodies, burning legs, and injured knees up the steep, rocky terrain in the cold temperatures to reach our sleeping quarters.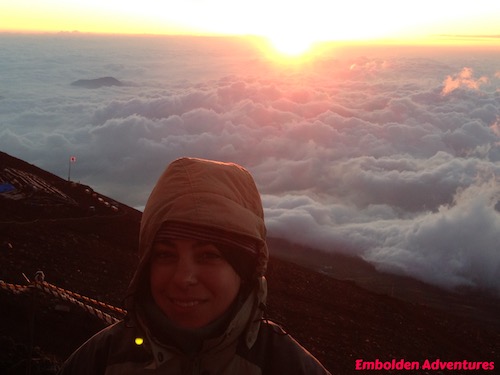 In the morning we watched the sun rise over the blanket of clouds, an experience that was the highlight of our mountain hike.
Finally we began the trek up to the summit to see the crater of the volcano. The path was steeper, consisting of big, sharp, reddish boulders. Here we met a slew of tourists who came up the shorter routes on the other side of the mountain to watch the sunrise at the summit.
The sky was bright white from the reflection of the sun off the blanket of white clouds below us that ringed around the mountain.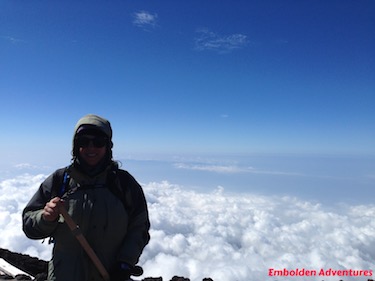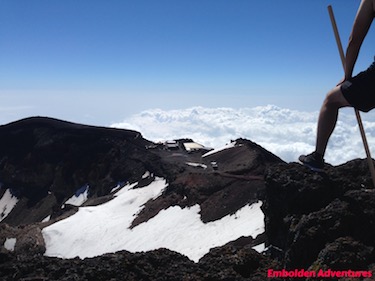 From start to finish, the trek took us 15 hours to complete. Our hike from our starting point to reach the very top of Mt Fuji lasted 12 hours, not including the time we took to sleep and rest. It took us 3 hours to return: Two hours down the boulder terrain and another hour down the steep, sandy terrain through the clouds and fog.
This experience was unlike anything I had so far. It was cool.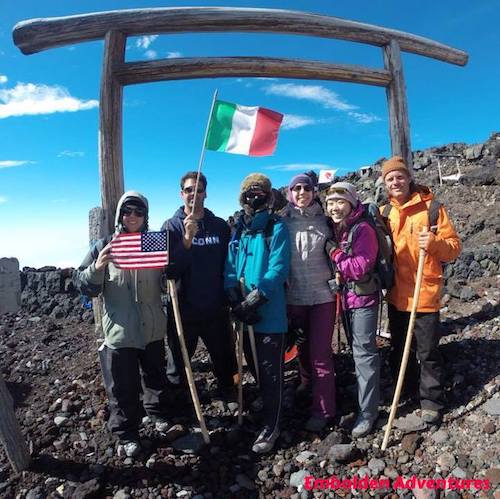 Climbing Mt Fuji proved to be one of those life experiences that makes you proud of your effort. Hence, I surprised myself with my mental toughness and the amount of energy my body had inside me to get me to the very top of an iconic volcano. Since being far removed from civilization on the mountain, I appreciated the power and mystery of the Earth and human fragility.
We, as this travel group, bonded over the experience since we relied on one another's positivity and desire to keep our momentum going in reaching our goal. Even our hiking buddy Issac had us singing his hiking song "Fujisan" that he created just for our Mt Fuji hike.
I marvel now at what the heck we accomplished each time I see a picture of Mt Fuji.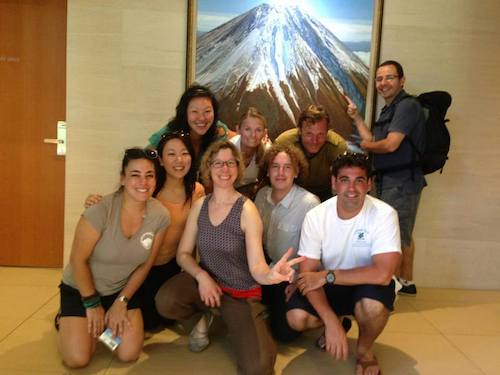 Now we crazy kids want to do it again with Kilimanjaro. And yes, Issac will have another song for us to sing, this time about Kili.
Kili is going to test me, thus I am excited to see what I can offer it. Attempting to climb Kili will bring me to Africa for the first time ever. Our reward for completing the trek will be an African safari in the Serengeti at the base of Kilimanjaro.
Am I nuts? Well maybe so. See what progress I have made so far in achieving this grand adventure. Stay tuned to learn more about Kilimanjaro as I learn too.
Be Emboldened!