Here is a story about the first traveling adventurer I have ever known: Mr. Mario Sousa.
Mr. Sousa has an insatiable desire to see the world. He is the stuff that pioneering explorers are made of: Curious, adventurous, and proactive in making it happen—An excellent example of an Embolden Adventurer!
Recently Mr. Sousa and his wife reflected on their travels around the United States and Europe. They were kind enough to sit with me, along with their daughter, granddaughter and great-granddaughter to share their travel experiences.
On this podcast hear about:
From Portugal to America
Camping around North America in a pop-up tent
An early travel blogging pioneer
The importance of traveling, even at 90 years old
And more!

Mr. and Mrs. Sousa are always on the go. They love to travel, they love to learn, and they love to experience new things.
Really, they have an unquenchable desire to see the world.
They are the grandparents of one of my best friends growing up. As a kid, I remember watching them travel all around the United States and throughout Europe. They were fantastic role models, showing us all that it is quite possible and fun to travel.
Together they spent many years first exploring their country of Portugal by way of camping.
Then in the late 1960s, Mr. and Mrs. Sousa and their daughter Marilia immigrated to America, leaving behind a former dictatorship for a new world.
They brought their love of camping adventure and traveling to America. Soon after they settled, they began touring and exploring. From Connecticut to California, Missouri to Mexico, Mr. Sousa and his wife have embarked on road trips and camping through North America for nearly 50 years.
They planned out their trips and drove across America on an extreme budget at campsites with their pop-up tents.
And what is the most incredible part? They accomplished all of this traveling pre-internet, pre-Google, pre-cellphones and pre-GPS. Mr. Sousa relied on a little bit of cash, traveler's checks, and a trusty old road map or two.
His can-do attitude and pioneering spirit have propelled him far, leading him to live a life enriched through travel. He is an excellent example of people who make things happen. It is manifest destiny, actually.
Now Mr. Sousa turns 90 wonderful years old "and still counting," he says. He is happy and healthy, and he still wants to see more.
Coming to America
In 2018, Mr. and Mrs. Sousa will be celebrating their 50th anniversary in the United States. They moved to Connecticut from Portugal in 1968 with their daughter Marilia to seek opportunities and to be closer to family.
The move was bold. Relocating to a new country took courage, yet they desired the change. For them coming to America was a big adventure. They arrived with three suitcases, a sewing machine, a tent, and just $400 in cash at the time. Mrs. Sousa figured that if she were unable to find a job quickly, she would rely on her sewing skills. In fact, she is so skilled she sewed a wedding dress for her granddaughter, Jen.
In addition, Mr. Sousa was a jack-of-all-trades back in Portugal. His previous jobs ranged from selling fresh blackberries to working at a bank to doing mechanic work at a shipyard. In America he landed a job in just two days of arriving. Then he proceeded to work throughout the years in manufacturing jobs and at a watch factory.
Upon moving to the United States, Mr. Sousa did not know English. So he learned by reading books and magazines "to be informed about what was going on" he says.
Mr. Sousa explained, "We did our best. We came to America not just to work and bring money back. We want to live in the United States, and we wanted to see things."
He is driven. When he puts his mind to something, he figures it out. Just like he does when traveling: When he discovers a new destination, he becomes determined to see it.
Mr. and Mrs. Sousa worked hard in life, and so they made it a point to travel any chance they had. Mrs. Sousa thinks that while it is important to make money, it is important to "spend the money too" if it means you are traveling.
Camping Adventure
With one of the first few paychecks Mr. and Mrs. Sousa earned, they bought camping gear. Camping was a love of theirs since their early days in Portugal.
Mr. Sousa desired to get out of the big city of Lisbon and seek nature. So on the weekends, they would go on a camping adventure in the country. Back in the day, they had little money to spend hence they operated on an extreme budget. Camping was a very affordable option for them, yet surprisingly it was not a popular area activity at the time.
First they started camping with just backpacks and did a lot of hiking including a seven-kilometer walk uphill once. Mrs. Sousa said that she did not enjoy all that walking, especially when carrying their then-baby daughter along the way.
Over time, they upgraded to a scooter with a sidecar for their mode of transportation. Later, they were able to buy a car to travel longer distances throughout the country. With each camping trip, they aimed to discover a new place in Portugal.
Mr. Sousa approached any camping adventure over the years with open curiosity and flexibility. He said that whenever wanted to turn around, they would. If something were to go wrong, they would adapt or cut the trip short. Fortunately, they did not encounter any big, negative issues.  
"Whatever we don't like or it's the weather or the camping…whatever it is, we go back home. If nothing happens, we keep going. But nothing happened," Mr. Sousa recalls.  
When Mr. and Mrs. Sousa settled in the United States, they resumed their camping adventures. First they started camping around the state parks in Connecticut, bringing along their trusty pop-up tent. Still they operated on an extreme budget. Then little by little as their situation improved, they extended their reach beyond Connecticut. But in keeping it real, they continued to travel around with their car and their pop-up tent.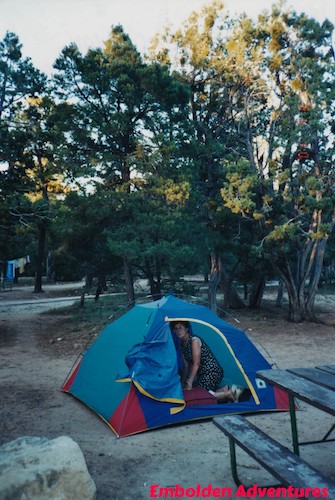 Eventually though, they upgraded to a trailer camper. And then they upgraded to a bigger camper to bring their grandchildren, Kenny and Jen, on road trips with them. Although Mr. Sousa will tell you that getting a bigger camper was a mistake.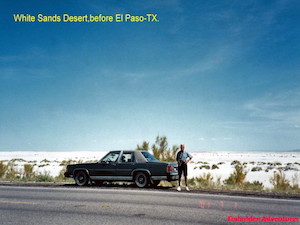 The camper was too unwieldy for him to take around the country. He preferred the nimbleness of having his pop-up tent and his car, an old Ford Crown Victoria from the early 1990s.
Even their cocker spaniel dog, Princesza who sometimes accompanied them on road trips, did not like the camper. Mrs. Sousa said that Princesza did love the camping parks, however.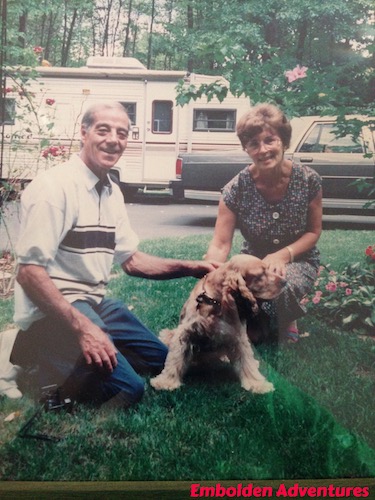 Mr. Sousa got his ideas of where to go next from what he saw in picture books. Then he became determined proclaiming: "I'm going to go there."
"My dad always looked for things that are different, for something else he has never seen before," his daughter Marilia said.
He prepared very diligently for each trip, always turning his vision into a reality. Any of his adventures took hours of his time to study where to go. Then he put it all together in an organized fashion.
Mr. Sousa drew out his itinerary the old fashioned way–using his road maps. On the maps, he would see points of interest such as national parks and worked these destinations into the trip. He followed by write extensive notes about how to get there and the background of the destinations. He typed out these specific points using a typewriter! Remember, Mr. and Mrs. Sousa embarked on their adventures before computers, before cellphones, before the Internet and Google, and before GPS.
Upon retirement, they began to take longer road trips through America. From Connecticut to California and back again, they circled the country bringing just their pop-up tent and their car. Every so often, they stayed overnight in motels, hotels, and inns to freshen up and to rest. For the most part however, they were on the road with their tent.
Mr. Sousa showed me maps of his camping adventures. On the map, he outlined the routes he took through the United States. In one version, he overlaid a map of Portugal to scale in a way to compare the size of the countries. In doing so, he wanted to demonstrate how far they had come from camping adventure in Portugal with that in America.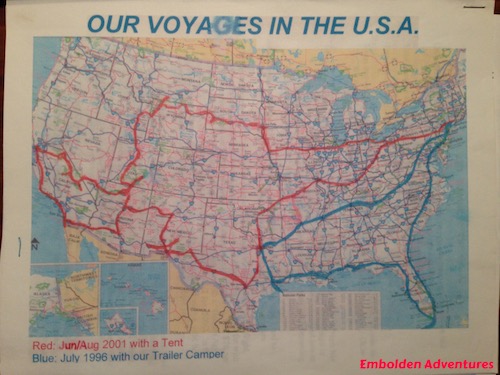 Since they loved nature, it was quite an experience to travel out west in the United States compared to Portugal. "If you want to see the best in nature, go west," Mr. Sousa recommends.
And out west they went.
Great Tourist Voyage in the USA
In 57 days from June to August 2001, they traveled 11,770 miles and visited 20 states and Mexico. On this trip, they hit up Arizona, California, Connecticut, Idaho, Illinois, Indiana, Iowa, Missouri, Montana, Nebraska, Nevada, New Mexico, New York, Oklahoma, Pennsylvania, Texas, South Dakota, Utah, Wyoming.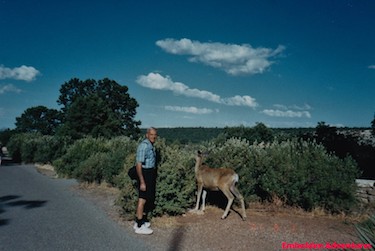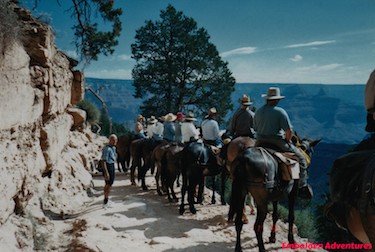 On their cross-country camping adventure, they saw black bears, prairie dogs, deer, rattlesnake, donkeys, wild horses, bison, and birds. They crisscrossed the Continental Divide three times, driving through deserts, mountains, forests, and plains.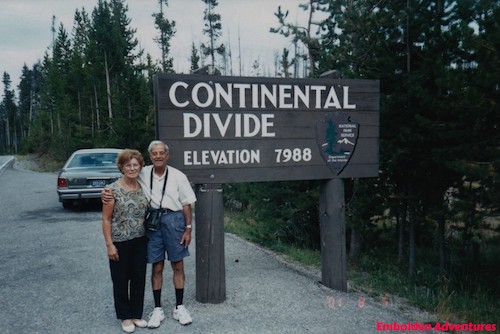 Mr. Sousa called their camping adventure the "Great Tourist Voyage in the USA." Mrs. Sousa said this trip was "the best vacation she ever had: The one with the pop-up tent."
Places Visited on The Great Tourist Voyage in the USA
Grand Canyon / Lake Mead / Painted Desert and Petrified Forest / Sedona / Big Sur / Death Valley / Sequoia / Beverly Hills / Chinatown / Crooked Street / Golden Gate Bridge / Alcatraz / Hippies Quarter / Yosemite National Park / Idaho Falls / Sioux City /Tijuana, Mexico / St Louis Arch / Montana / Omaha / Las Vegas / Hoover Dam / Carlsbad Caverns / Gila Cliff Dwellings / Stein's Railroad Ghost Town / Three Rivers Petroglyphs / White Sands National Park / Badlands National Park / Black Hills / Mount Rushmore / Dallas / El Paso / San Antonio / Bryce Canyon / Great Salt Lake / Zion National Park / Grand Teton National Park / Jackson Hole / Yellowstone National Park.
First leaving Connecticut, they drove through to the Midwest. While stopping in Akron Ohio to camp, a mischievous raccoon got into their food and ate all of the cookies.
From Akron, they moved on to Columbus and Cincinnati, then ahead to Indiana, and Illinois. They passed through the "Gateway to the Midwest", The Gateway Arch in St. Louis, Missouri. Then from Missouri, they headed to Oklahoma and to Texas.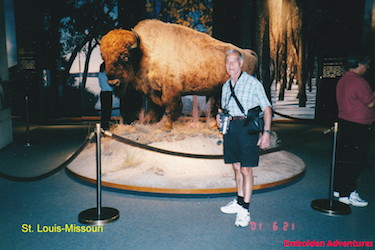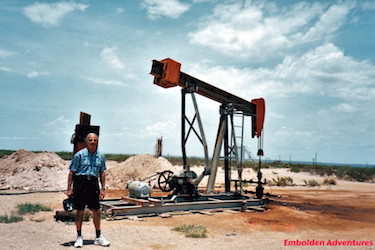 While in Texas Mr. Sousa recalls an encounter with a "big, plump Texas cockroach [that] just walked on [Mrs. Sousa's] hair while she was sleeping." That experience must had been quite a jolt, especially for their first time in the Lone Star State!
They took their time driving through the massive state of Texas, eventually reaching the state line at El Paso. Here Mr. and Mrs. Sousa experienced very hot, very dry temperatures of over 100 degrees Fahrenheit. At one point they were becoming a bit concerned about driving it through the desert. They had a few gallons of gas and little water. Fortunately they made it to a gas station with just two gallons of gas to spare.
Next, they continued for another long drive to the White Sands National Park in New Mexico. At this point, Mr. and Mrs. Sousa had a decision to make. Either they travel through the night and miss the beautiful New Mexico landscape along the way. Or, if they wanted to enjoy the scenery in the daytime, they would have to camp in their tent overnight, alone in the desert.
Despite her reservations about sleeping in the desert, Mrs. Sousa agreed to do it. That decision turned out to be the right one, because this part of their camping adventure became a favorite moment.
The bright, white sand dunes, as far as the eye could see were "amazing and beautiful" to Mr. and Mrs. Sousa. It was an incredible experience unlike anything Mr. Sousa had. "It was strange for me. I have never been," said Mr. Sousa. Because he loved seeing the white sand so much, he decided to take off his shoes and roll around.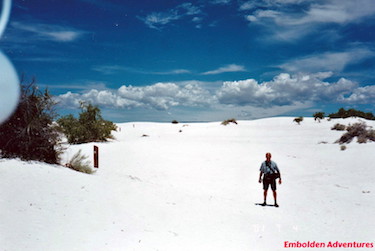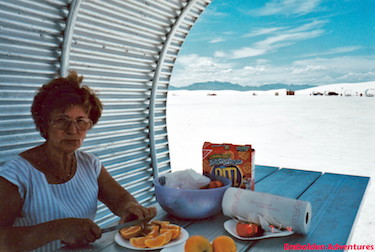 Accordingly, he could not stop taking photographs and videos of these views. Mrs. Sousa said that at one point, a police officer stopped to ask Mr. Sousa what he was doing. The cop thought Mr. Sousa was filming for a TV show. "There's nothing to see here – it's only sand!" the police office remarked. However, that absence of something intrigued Mr. Sousa. The vastness of the sand makes one feel so small, he explained.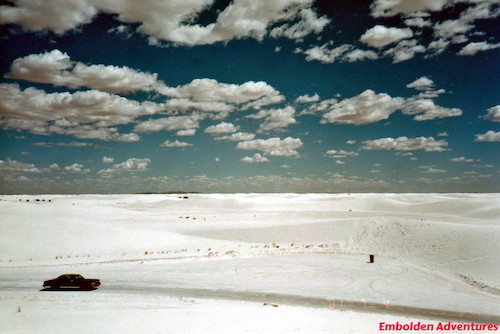 Speaking of the New Mexico police, Mr. Sousa got pulled over by the police, along the desolated, desert roads. He went through a stop sign. But instead of getting a ticket, the cop gave him a warning "as a souvenir" the cop said to Mr. Sousa.  
Continuing through New Mexico, Mr. and Mrs. Sousa explored the Gila Cliff Dwellings. He was fascinated to learn the history of these ancient clay structures and the Native Americans who built them. They also visited Carlsbad Caverns, the Three Rivers Petroglyphs, and an authentic Wild West spot, Stein's Railroad Ghost Town.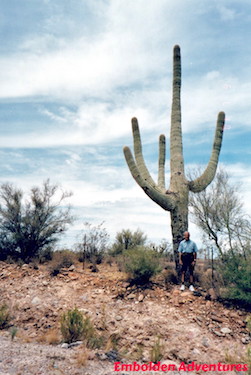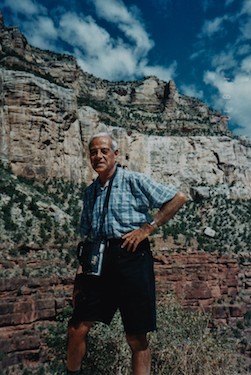 Finally from New Mexico, they continued through their desert adventure to Yuma, Arizona by the border of California. Sandy plains and desert mountains decorate their trail onward to the oppressively hot Death Valley, California.
Eventually they made it to the Pacific Ocean at San Diego. From coast to coast, Mr. and Mrs. Sousa traversed the United States. San Diego became a personal favorite destination for Mr. Sousa, especially because of the amazing, spring-like weather. They enjoyed walking around Coronado Island on the Pacific and Old Town that has a rustic Mexican feel. The theme of Mexico continued as they ventured south of the border to spend a few hours in Tijuana.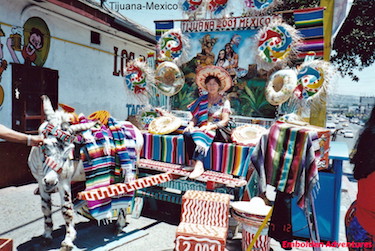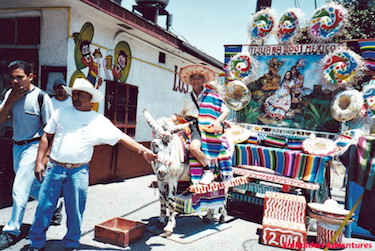 Now driving north, they hugged the Pacific coast until they arrived to Los Angeles. By then they had driven approximately 6,000 miles from Connecticut. As a result, they reached the halfway point of their Great Tourist Voyage of the USA camping adventure. So they took a break from driving a bit and went on a celebrity bus tour. And they hit up Hollywood, Beverly Hills and the breezy Santa Monica Pier. It was California livin' in its finest.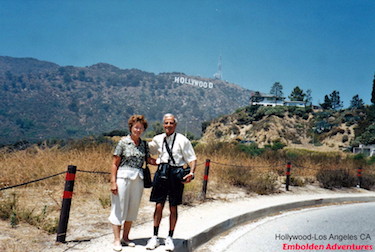 After having fun in Los Angeles, they continued north taking in the gorgeous views of the ocean. Along the way, they stopped off at the Big Sur National Park to camp and relax.
Then it was on to San Francisco where they encountered their most expensive campsite. For $40 dollars per night, they pitched their tent in just a 100 square foot grassy area. Mr. Sousa was shocked at this price, given their experience in extreme budget camping.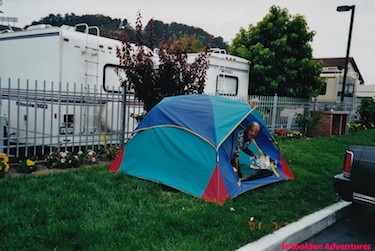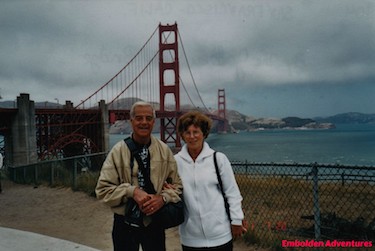 Despite the campsite, San Francisco turned out to be another favorite place of theirs. In the city, they visited all of the top tourist spots: Chinatown, the the crooked Lombard Street, the San Francisco trolleys, the "Painted Ladies" houses from the 1980s TV show "Full House", Golden Gate Bridge, Alcatraz, and the Haigh-Ashbury Hippies Quarter as Mr. Sousa noted.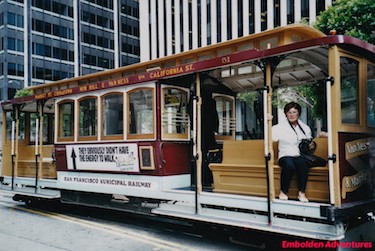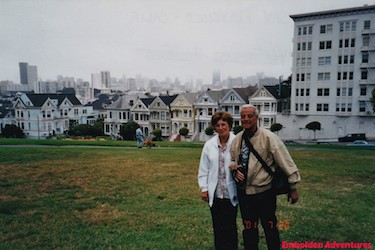 Next they ventured out to see the large and very old Sequoia trees in the Redwood Forest. Especially, Mr. Sousa had fun driving his Crown Victoria through a tunnel cut out of a massive sequoia tree trunk.
Additionally, he discovered that people on the west coast were curious to see his Connecticut license plate. As a result, he got a kick out of his new found popularity as they were so far from home.
Following their visit to San Francisco, Mr. and Mrs. Sousa headed back east. They made their way to Yosemite National Park to explore the expanse frontier. In the evening, they retired to their campsite, not realizing they were in a campsite reserved by another person. Unfortunately, in a fit of frustration most likely, some guy kicked their tent. Although, being the genuinely nice people Mr. and Mrs. Sousa are, they offered an olive branch to the man. "Excuses and sorrows: We left friendly," Mr. Sousa reassured.
Yosemite just was not in their good fortune. After traveling this far for this long, they had their first car accident, consequently. Mr. Sousa explained they were driving down a winding road following a park ranger who flashed a "slow" sign. As they were breaking, they were rear-ended by a pick-up truck. Fortunately, the truck only tapped the bumper. The cars were fine, and no one was injured, thankfully.
And to top it off, in the parking lot, they had their first bear encounter. What a difference from a camping adventure in Portugal!
From that excitement to now excitement in Las Vegas, they reached their next stop in their camping adventure. After Vegas, they drove by the engineering marvel, the Hoover Dam, followed by a stop at Lake Mead, the largest reservoir in the United States.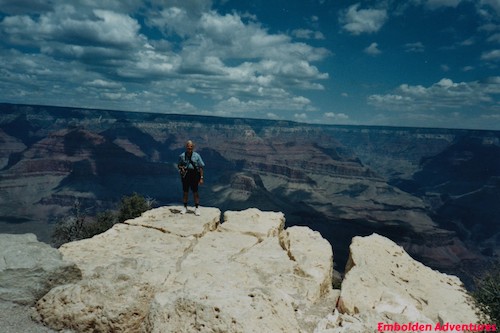 Next they headed back to Arizona. In this part of the country, Mr. and Mrs. Sousa enjoyed the epitome of American Road Trip: The Grand Canyon. They marveled at the gorgeous striated rocks and pastel colors of this weathered, expansive, and majestic canyon. Accordingly, the Grand Canyon was another favorite destination.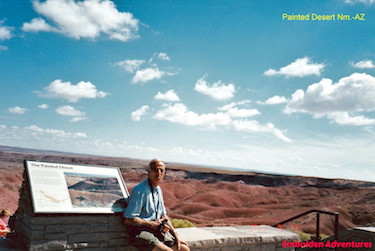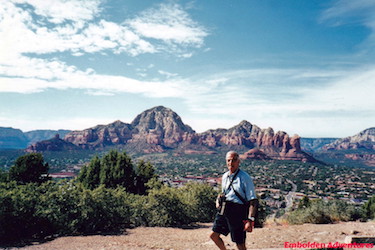 Also in Arizona, Mr. and Mrs. Sousa drove through the Painted Desert and the Petrified Forest. Lastly, they visited Sedona to see the gorgeous red rocks and feel the energetic New Age vibes.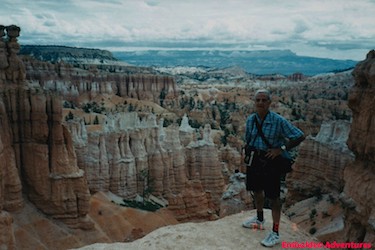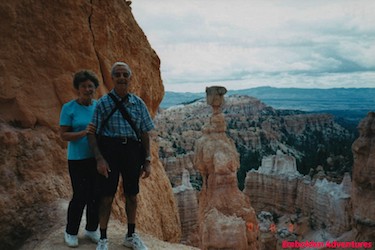 In nearby Utah, Mr. they trekked to the Bryce Canyon, a collection of eroded pinnacle formations made of red sandstone. A few years later, their granddaughter Jen and her now-husband Jim traveled to Bryce Canyon, on Mr. Sousa's direction. Not surprisingly, Mr. Sousa was right – Bryce Canyon was a great suggestion. And because they loved Bryce Canyon so much, Jen and Jim named their first child, Mr. Sousa's first great-grandchild, Bryce.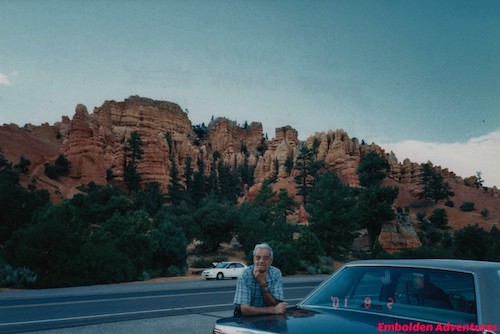 Further into their camping adventure, Mr. and Mrs. Sousa visited Zion National Park, a beautiful stretch of rivers and canyonlands. Then they stopped at the Great Salt Lake in Salt Lake City.
From Utah, they traveled through Idaho Falls in Idaho and through "Big Sky" Montana. In Montana, they explored the breathtaking Yellowstone National Park and checked out its famous geyser, Old Faithful. Then from Montana, they trekked over to Wyoming to explore Jackson Hole and Grand Teton National Park.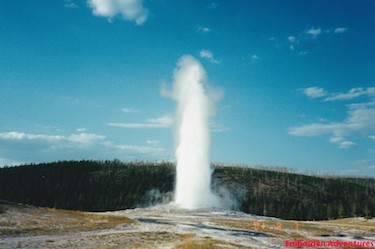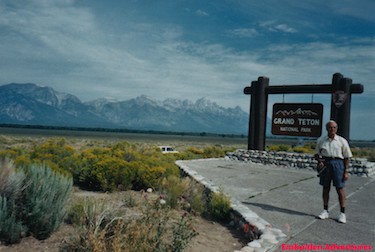 Next they ventured over to South Dakota. There they paid a visit to Mount Rushmore, a site where historic United States Presidents are carved into the mountainside. Additionally in South Dakota, they drove through the Badlands National Park, Sioux City, and the Black Hills.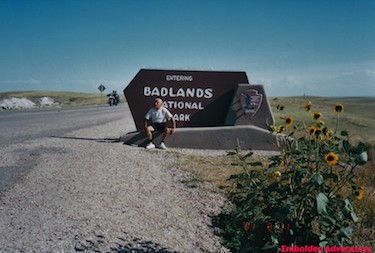 Mr. Sousa found it fun passing by hundreds and hundreds of motorcycles in the open expanse. As their cross-country adventure continued, they passed oilrigs in South Dakota and the windmills in Nebraska and Iowa. Eventually they made their way back home to Connecticut, wrapping up their "great tourist voyage in the USA". Their amazing camping adventure had concluded.
Adventures in Europe
Even though Mr. and Mrs. Sousa dedicated time exploring the American country, they found time to travel back to Europe. Over the years, they were able to afford making trips back to Portugal and then around Europe too. Although instead of a camping adventure, they opted to take guided tours and buses through Europe.
They visited Italy three times and England twice. They have seen Greece, France, Switzerland, Croatia, and Turkey among other countries. Mr. Sousa's favorite countries are Italy, Switzerland, and Turkey. According to Mr. Sousa, America is the destination to see nature. On the other hand, Italy is the "museum of Europe" and Turkey has the ancient history. In Turkey, Mr. Sousa told me, they saw a place where the some of the first Christians settled. He points out the cave dwellings he saw in New Mexico were old, However, in Turkey, he was amazed how much more ancient the civilization was.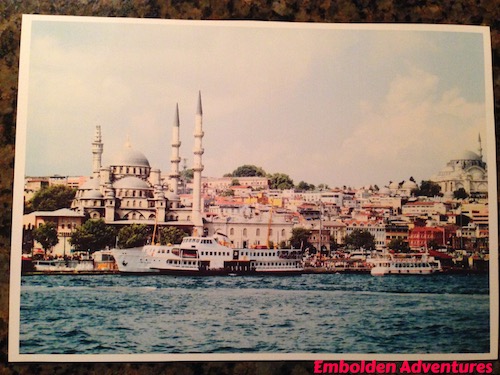 Although, Mr. Sousa wishes he had a chance to tour Russia. Beyond Europe and in addition to Africa and the Caribbean, he hoped for the opportunity to see Asia including China and South American including Machu Picchu in Peru. We all agree he needs another 90 years!
An Early Travel Blogger
Evidentially, Mr. and Mrs. Sousa have lived a remarkable life venturing to worlds unknown and satisfying their curiosities. They were driven to see as much as they could with the time and energy they had.
Traveling is very important to them, obviously. So much so, Mr. Sousa has always wanted to share all that he experienced in his travels with others. On these many trips, he would always be found taking photos and videos, capturing experiences as they happened.
Mr. Sousa has shoeboxes worth of photographs and nearly a full day's worth of video camera footage. This footage is from journeys around country and the world and of course, from lots of camping tours!
Then he showcased his experiences through his writings in journals and by sharing pictures and videos. You can say he was a pioneering travel extraordinaire and an early blogger before that was even a thing.
Through his documentation, he was giving the gift of travel indirectly to others. And as a child, I remember their adventures. Now all grown up, here I am traveling the world and sharing my experiences through blogging in a way to embolden others. It was as if Mr. Sousa has "passed the baton to me", his daughter Marilia says.
The Importance of Travel
Through traveling, Mr. and Mrs. Sousa have lived life to the fullest. Their life has been quite the journey with approximately 70 years on the road and exploring the world.
Because of travel, they know the world to be beautiful and the country to be beautiful.
They say, make a point to see the scenery. See the people. See the monuments. Experience nature. It makes a person happy. It makes them feel good.
Furthermore, Mrs. Sousa recommends starting "very early, as early as you can. See as much as you can when you are younger."
"I wish I could go back and start again," adds Mr. Sousa.
Despite not having a lot of money, travel could very well be achievable. If there is a will there is a way, and Mr. and Mrs. Sousa exemplified this point. On their camping adventure, they were on an extreme budget. Yet they traveled tens of thousands of miles, seeing more things then many people have in their lifetime.
Although in hindsight, Mr. Sousa has some minor laments. He recommends driving cross-country to California with a rental car instead with a personal car. Also, he thought driving a big trailer camper was too much aggravation for what it was worth.
Today, however, they cannot drive as much, but they still want to travel. Nothing stops Mr. Sousa. He keeps going, even at 80 and 90 years old. In fact, they just got back from Portugal last year, visiting Lisbon and the northern part of the country.
"I don't like to stay put. I don't want to stay put, I keep going!" He exclaims.
No doubt Mr. and Mrs. Sousa were proactive in choosing their life, as they wanted to live it through travel. They wanted to see the world and see the world they did. Accordingly, they agree their life has become richer.
As Mr. Sousa warmly celebrates his 90th birthday this year, he looks back on his incredible, endearing journeys.
"To me [travel] was a way to life…to be always on the go," Mr. Sousa explains. "I have no regrets."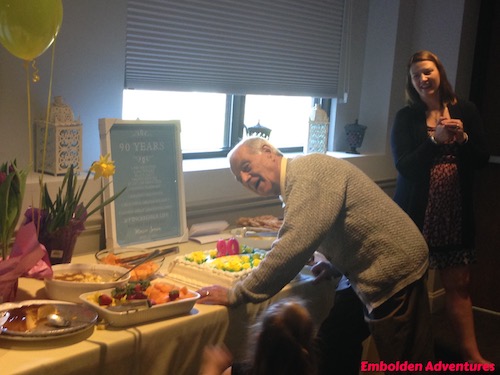 Happy Birthday Mr. Sousa! 
Be Emboldened!